Gotscha, 1998. Cavalry helmet, copy of The Dutch model personal helmet of Prince Maurice of Orange, c.1990, collection of the Hofjagd-und Rüstkammer des Kunsthistorischen Museums in Vienna, Inv. A 1654.
Description: Close-helmet with low comb, plume holder, riveted-on collar of two lames and a pivoting visor in three parts comprising: a brow reinforced with sights and a lifting stud on the right, face-guard with sights with ventilation holes on either side of the ridge consisting of 8 holes arranged in a small circle and linked to a central hole by double engraved lines and a lower bevor with the front half of the collar attached to it and held to the skull by a hook with an angular foot on the right; the face-guard in turn is held to the lower bevor by a similar hook, mounted on the right hand side as well. The face-guard is supported in the uplifted position by a long, swiveling forked stud and stud and when moved upwards also pushes the brow reinforce upwards due to the presence of the lifting-stud on the latter. Small nicks in the lower edge of the face-guard enable the fork to be adjusted in several positions so as to vary the height of the opening.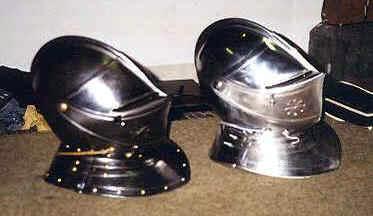 Replica helm during production phase, 1998. Very gratefully may be mentioned that the Hofjagd- und Rüstkammer des Kunsthistorischen Museums in Vienna (the owner), as a very rare exception, allowed the personal suit of armour of Prince Maurits to be taken apart, in order for Gotscha carefully to measure every single part of it.