Home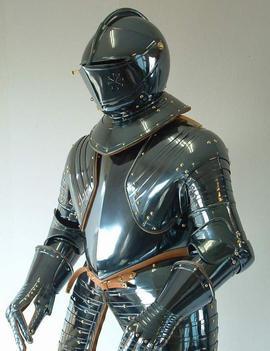 Rijksmuseum Amsterdam about Gotscha's work
Your independent artistic objects and so-called facsimiles are of exceptionally high quality. Your reconstructions based on incomplete material and pictures are convincing. Concerning its application in the museum world I can say the following. Where originals would have to be kept safe on account of fragility and the risk of damage and would have to be replaced by replicas, or if reconstructions would need to be made, I can say to you that I would warmly recommend you to my colleagues. At the moment I could not point to any other person in The Netherlands who executes this work with such expertise.
Professor Dr. J.P. Sigmond, Director
Work of the Georgian-born sculptor, armourer, and artist now living in the Netherlands. Includes images of his armour, religious, ceremonial and private artworks and his jewelry, as well as biographical and bibliographical data.
rijksmuseum, rijksmuseum, rijksmuseum, rijksmuseum, rijksmuseum, rijksmuseum, rijksmuseum, rijksmuseum, rijksmuseum, rijksmuseum, rijksmuseum, rijksmuseum, rijksmuseum, rijksmuseum, rijksmuseum, rijksmuseum, rijksmuseum, rijksmuseum, rijksmuseum, rijksmuseum, rijksmuseum, rijksmuseum, rijksmuseum, rijksmuseum, rijksmuseum, rijksmuseum, rijksmuseum, rijksmuseum, rijksmuseum, rijksmuseum, rijksmuseum, rijksmuseum, rijksmuseum, rijksmuseum, rijksmuseum, rijksmuseum, rijksmuseum, rijksmuseum, rijksmuseum, rijksmuseum, rijksmuseum, rijksmuseum, rijksmuseum, rijksmuseum, rijksmuseum, rijksmuseum, rijksmuseum, rijksmuseum, rijksmuseum, rijksmuseum, rijksmuseum, rijksmuseum, rijksmuseum, rijksmuseum, rijksmuseum, rijksmuseum, rijksmuseum, rijksmuseum, rijksmuseum, rijksmuseum, rijksmuseum, rijksmuseum, rijksmuseum, rijksmuseum, rijksmuseum,