Gotscha, 2003. Helmets Ordered by Bruno Maurer, Swiss Army Museum in Bern
Topfhelm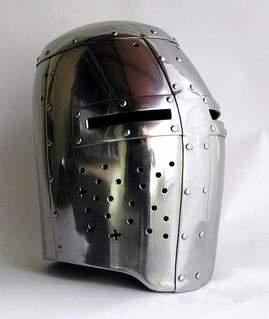 Gotscha, 2003. Reconstruction (copy) of the helmet (ca. 1300) from "The Collection Boissonas", France. Steel. Weight 6,5 kg.
Spangenghelm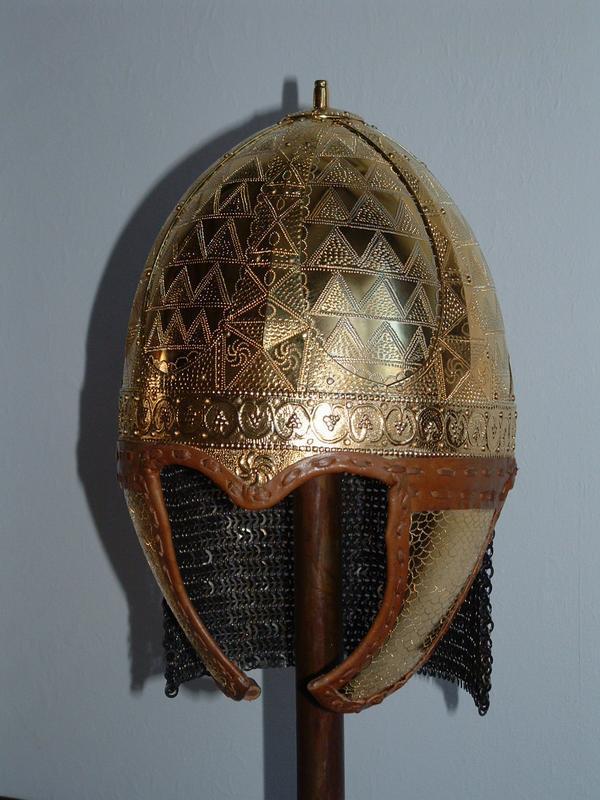 Gotscha, 2003. This helmet is reconstruction of the helmet of an aristocrat Sir of Morken, found in the 6th century after CH., collection of the "Rheinischen Landesmuseums" in Bonn (Germany).
"Spangenhelm"-type. This helmet is made with cooperation of the owner of the original helmet, the "Rheinischen Landesmuseums" in Bonn. Meaning was how the original helmet looked when it was made. The size and materiel is same as the original one. Also the decoration and the amount of holes. Leather and textile lining is interpretation, but imaginable that they are interpreted correctly. The symbol on the front is also an interpretation because it was "missing". Consisting of head piece, headband, and six bronze bands(Spangen) crests riveted with six pointed ovale steel leaves as fillings. Steel, bronze, leather and textile, gilding. Ordered by the Swiss Army Museum in Bern.