GOTSCHA
Bijou Lady bird "Picasso",1997, silver and iron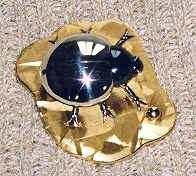 I am of the opinion that the work of Gotscha Lagidse is unique in the Dutch Museum world and constitutes an addition of quality for the Dutch museum world.
Prof. Dr. J.P.Sigmond
Director of the collection Rijksmuseum Amsterdam
Gotscha's works are full of mystery and spirituality. With the same unique technology he is creating small sculptures, which makes them very special. These sculptures have mainly round shapes, which give to them certain stylistic direction. Also he is creating personal symbols like: The Flower – symbol of beauty, the form of the sphere – symbol of universality of the form or idea.
Dr. Zura Kalanda (Kalandadze), art critic
Gotscha's work fits within the realm of abstract expressionism – which is particularly visible in the animal figures. He 'paints' in tints of different metals and astonishes us with a mysterious use of material and construction. Of this I am convinced by now, considering his impressive amount of experience, the degree of perfection and the diversity of techniques with which each object is formed.
Harry Vlamings
Docent at the of Art Academy in Tilburg, The Netherlands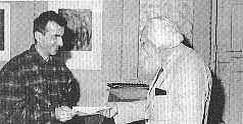 At the occasion of his 80th birthday, on the 10th of January 1999, the composer Jan van Dijk was presented during a concert with a bijou exclusively made for this occasion by Gotscha.
(Photo from Authorized biography, edited by Jan den Ouden)
Friendship and collaboration with Professor Alfred Habermann played an important role in the developments of Gotscha's sculptural works.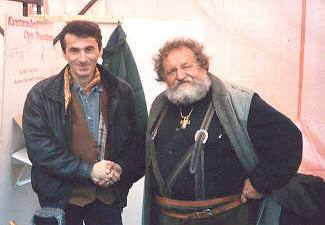 Buren, 1997, Forum of NGK